Get more from your money
Exchange money with no hidden fees. Manage your money with spending analytics. Join more than 10 million Revolut customers worldwide.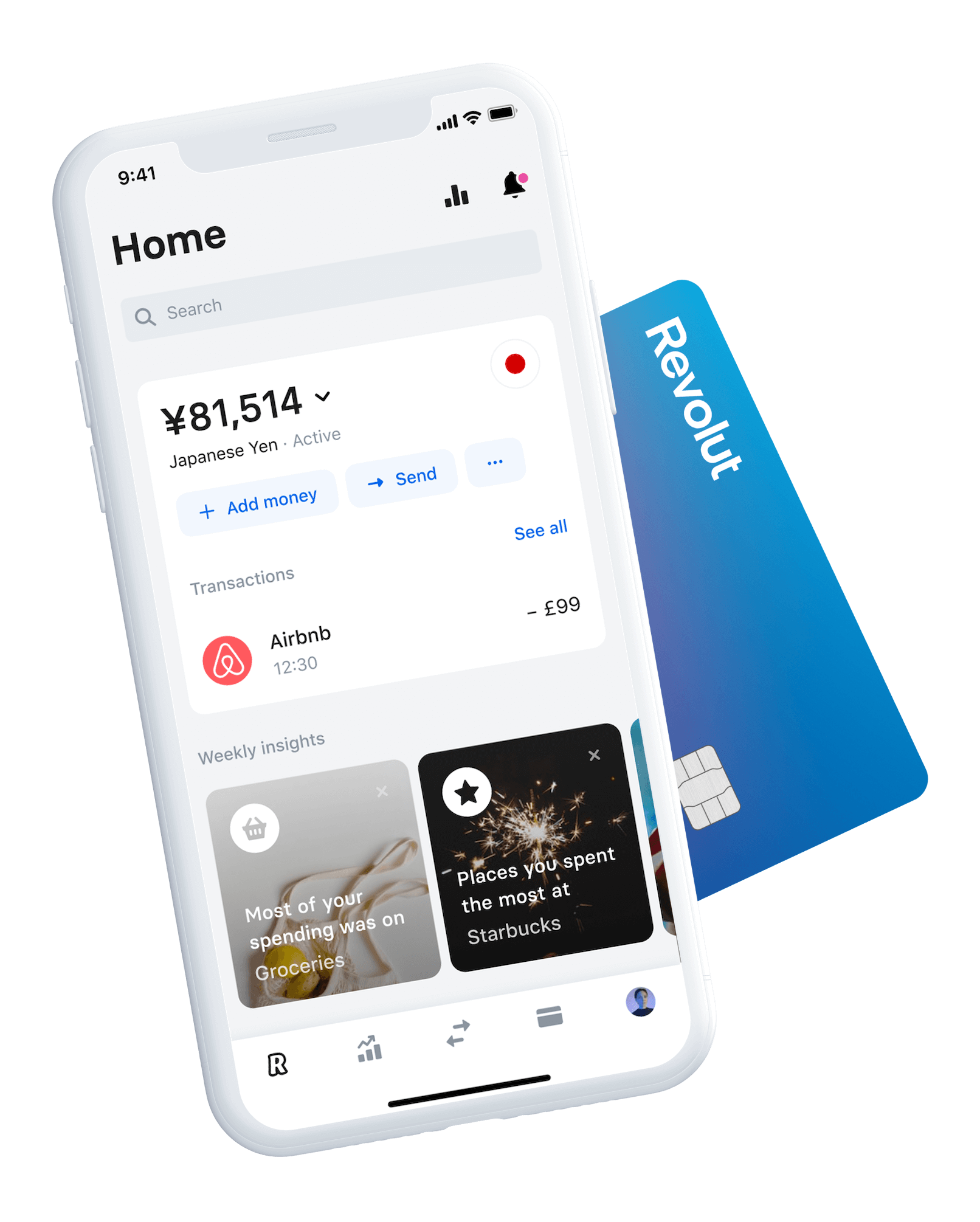 Your whole financial life at your fingertips
Manage your money
Unlike banks, opening an account with us only takes a few minutes, and because we don't believe in branches, you can set one up directly from your phone
We'll show you exactly where your money is going each month, and even let you set up monthly budgets for things like restaurants and groceries.
Send money all over the world instantly, without hidden fees
Send, request money, or split bills with friends and family instantly, whether they're across the table or across the globe
Transfer money abroad in 27 currencies with the interbank exchange rate, with a small 0.5% fee for anything above 750000 JPY each month. A flat mark-up on weekends and on certain currencies may apply, it's only fair
Manage your money better with spending analytics
Set budgets, get instant spending notifications, and see weekly insights to keep your spending on track
Connect your other bank accounts to Revolut with Open Banking and manage all your finances in one place
Strong, customisable security at your fingertips
Lost your card? Freeze and unfreeze your card easily in the app
You're in control – toggle contactless, swipe, online payments or ATM withdrawals easily
Reach your financial goals faster with Personal Vaults
Putting money aside for a new laptop, or maybe just a rainy day? Reach your goals faster with a Personal Vault
Round payments and save your spare change, or make a one-off or recurring transfer. It's up to you. This is savings made simple
Set financial goals and deadlines to help you stay on track with your progress
Start a Group Vault and reach that common goal faster, together
Coming Soon
Get daily discounts and cashback
Save money every day with Perks
Earn rewards you'll actually use on travel, retail, restaurants and more
Unlock new offers when you use your Revolut cards
Join our global community and get access to a world beyond banking