Get more from your money
Exchange money with no hidden fees. Buy crypto, gold, and trade stock commission-free from $1. Manage your money with spending analytics. Join over 10 million Revolut customers.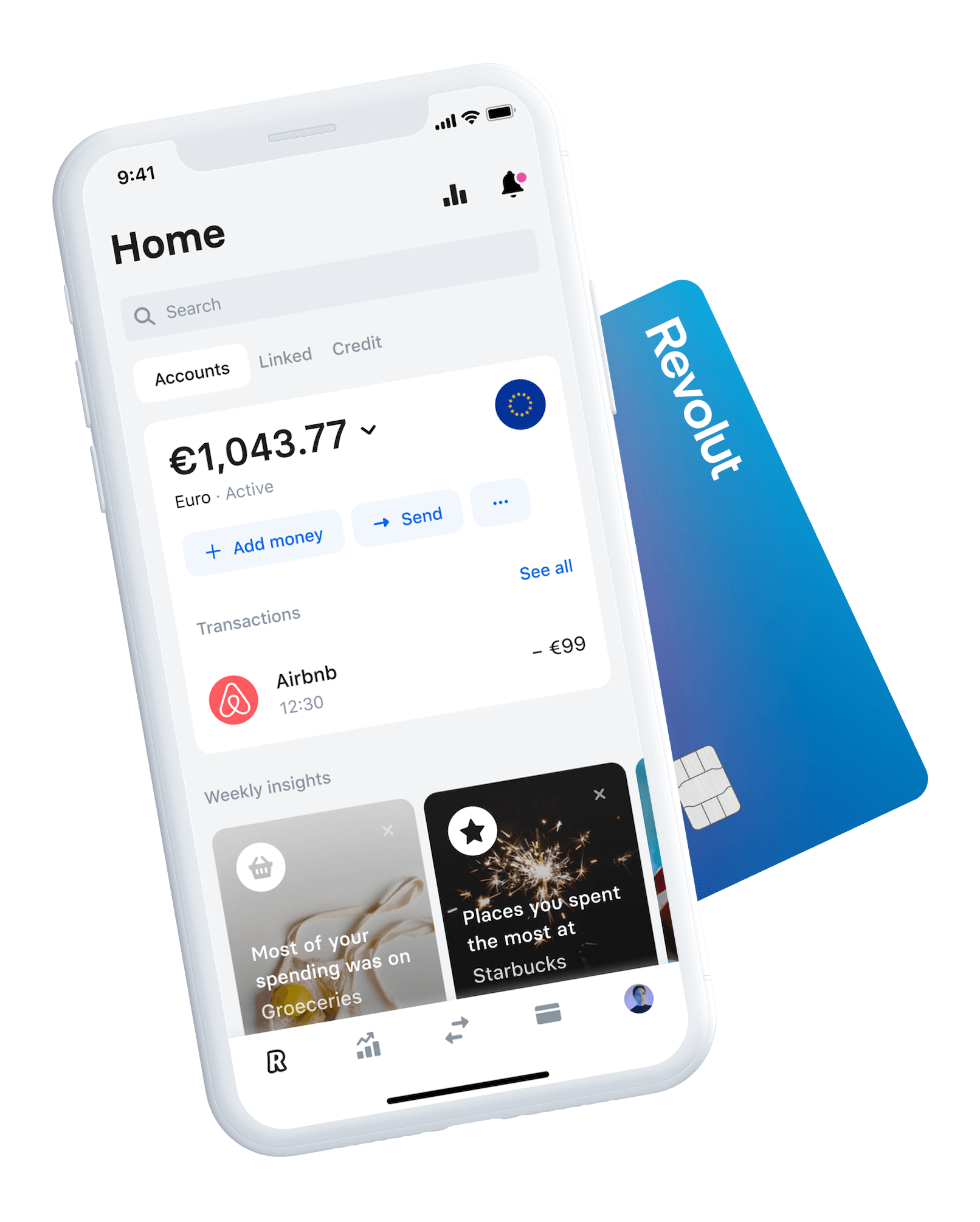 Your whole financial life at your fingertips
We're 7x better than the banks at stopping card fraud
Lost your card? Freeze and unfreeze your card easily in the app
You're in control – toggle contactless, swipe, online payments or ATM withdrawals easily
Our award-winning anti-fraud systems keep fraudulent transactions under 0.01%, which is 7 times better than banks.
Pay like a local – get the real exchange rate
Spend abroad in over 150 currencies at the Real (Interbank) exchange rates – with no hidden fees
Withdraw cash abroad without extra charges
Join our global community and get access to a better way to manage your money
Standard
Free UK account
Free Euro IBAN account
Spend in over 150 currencies at the interbank exchange rate
Exchange in 30 fiat currencies up to €6,000 per month without any hidden fees
No fee ATM withdrawals up to €200 per month
Free Revolut card (excl. delivery)
Premium
Free UK account
Free Euro IBAN account
Spend in over 150 currencies at the interbank exchange rate
Exchange in 30 fiat currencies - no monthly limit
No fee ATM withdrawals up to €400 per month
Overseas medical insurance
Delayed baggage & delayed flight insurance
Global express delivery
Priority customer support
Premium card with exclusive designs
Disposable virtual cards
LoungeKey Pass access
Free lounge passes for you and a friend if your flight is delayed by >1 hour
Revolut Junior accounts for up to 2 kids
Special discount if you pay upfront
Metal
Free UK account
Free Euro IBAN account
Spend in over 150 currencies at the interbank exchange rate
Exchange in 30 fiat currencies - no monthly limit
No fee ATM withdrawals up to €600 per month
Overseas medical insurance
Delayed baggage & delayed flight insurance
Global express delivery
Priority customer support
Exclusive Revolut Metal card
Disposable virtual cards
LoungeKey Pass access
Free lounge passes for your and up to 3 friends if your flight is delayed >1 hour
Revolut Junior accounts for up to 5 kids
0.1% cashback within Europe and 1% outside Europe on all card payments
Get access to a concierge to help you manage your lifestyle
Special discount if you pay upfront