CRACKED SCREEN
If you break your phone screen, we'll replace it straight away.
£286
TOUCHSCREEN MALFUNCTION
You're covered if your touchscreen is no longer responsive.
£556 LIQUID DAMAGE
We've got you covered for all types of water damage.
£556
BATTERY FAILURE
We'll fix your phone if your battery stops retaining it's charge.
£25
All repair estimates are based on prices charged by Apple Store Genius Bar for an iPhone X. Estimates priced at £556 may result in the full replacement of the phone.
Instant, global mobile phone insurance
Affordable mobile insurance for all types of accidental damage:
All drops and breakages damage, including screen damage
All liquid damage
Any damage caused by a third party
Out of warranty break downs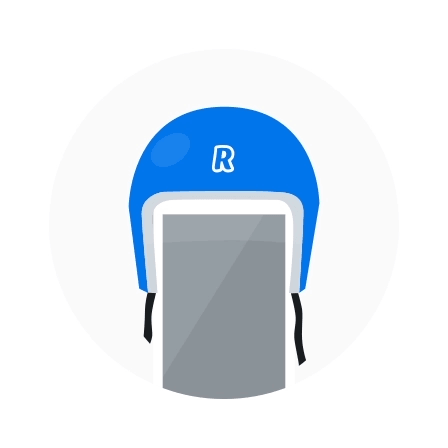 More Questions?
If you have any other questions about our device insurance, you can check out our common questions here!
Revolut Travel Limited (company No: 10618740) is authorised by the Financial Conduct Authority as an insurance intermediary (FCA No: 780586) and acts as an ancillary insurance intermediary of Simplesurance GmBH. Simplesurance GmbH is registered in the register of brokers as an insurance agent with authorisation according to § 34 d para. 1 GewO [German trade regulation] with registration number: D-KE16-N09NS-41.